Cathedraltown
Parastoo Anoushahpour, Faraz Anoushahpour, Ryan Ferko
Exhibition in production | 2019/2020

The Cathedral of the Transfiguration in Markham, Ontario was envisioned as a monumental Catholic landmark north of Toronto, but to the suburban community that was later built around this structure, it now looms with a very different presence: "The bells don't ring anymore. It sits like a mysterious haunted house no one wants to go into." The 14-storey cathedral – designed by renowned architect Donald Buttress, who was also responsible for restoration work at Westminster Abbey – features three gold domes and a three-bell carillon weighing more than 14,500 kilograms. Work on the cathedral started in 1984, after the site was blessed by Pope John Paul II. The cathedral was a labour of love for mining mogul Stephen Roman, who was born in Slovakia and immigrated to Canada in 1937. Before he died in 1988, only the outer shell of the massive structure was complete, leaving the job of finishing the interior to the Slovak Greek Catholic Church Foundation and to his daughter, Helen Roman-Barber. This job was never completed. In 2006, the head of Canada's Slovak Byzantine Rite Catholics shut down the cathedral's liturgical services after a disagreement with the church foundation. It remains unknown when religious services might be allowed to return to the cathedral, and so it sits unfinished and abandoned. Previously surrounded by farmland, in 2006 construction began on a new suburban communit radiating out from the massive church. Marketed as Cathedraltown, a collection of Georgian-style homes were built, ranging from detached suburban dwellings to townhouses. The streets were named after members of the Roman family, close friends, as well as prized Holsteins raised personally by the late Mr. Roman. These were all part of the design plan, which also included a central piazza surrounding the cathedral, a community pond, and a market square. Ten years later, residents are still waiting for the European piazza lined with shops and cafes.

As realtors and developers continue to market the new community of Cathedraltown around the image of the massive cathedral, the building itself slips further into disrepair. Never fully completed, the cathedral became a symbol for a suburban development before it could become a symbol for its patron's Eastern-European homeland. A ghost stranded without a past, this project explores the implications of a symbol suspended in time, displaced in the unlikely location of suburban Toronto.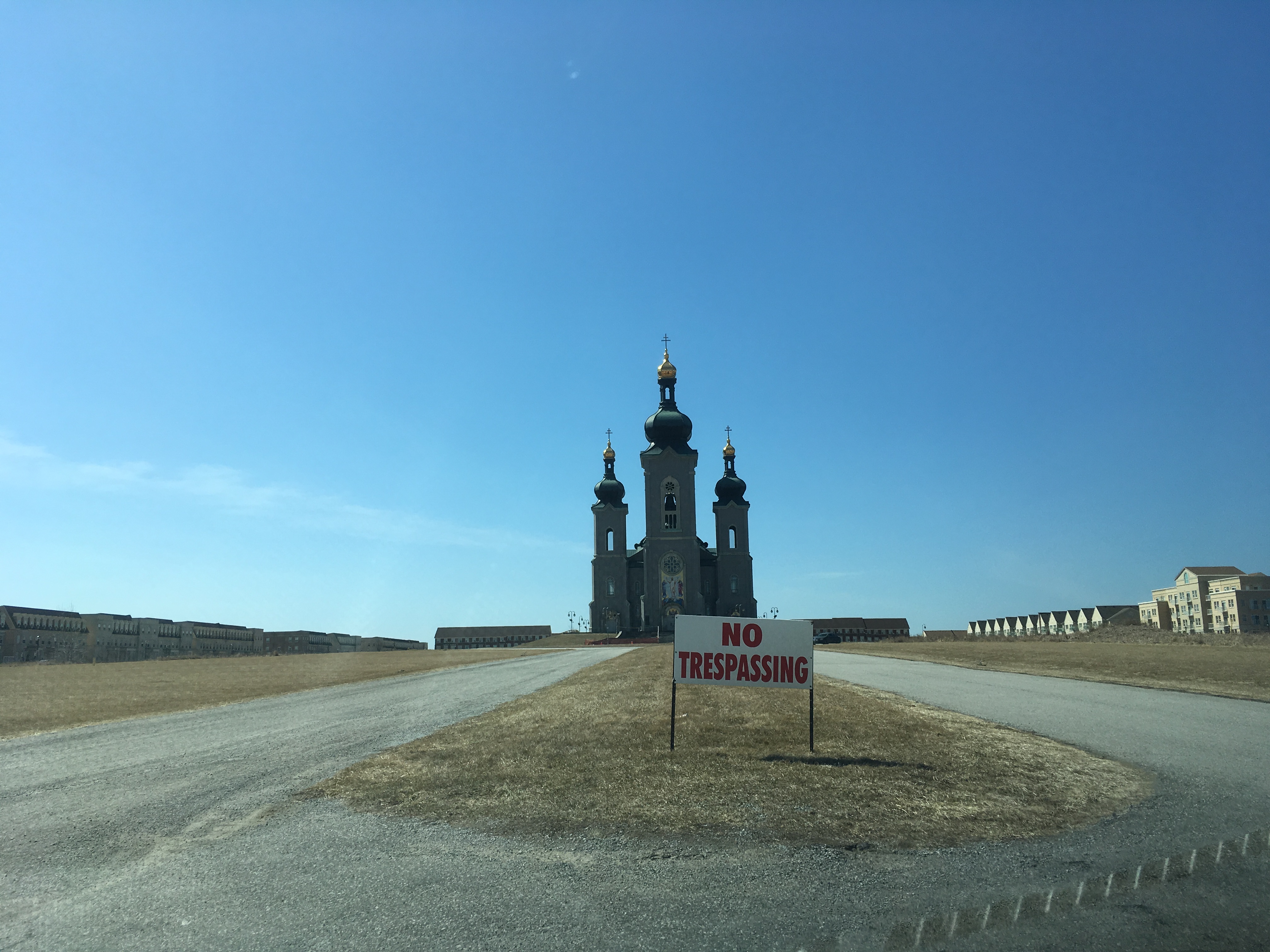 Cathedraltown, production stills
Cathedraltown, teaser, 16mm, 1.5min

Exhibition information
Coming soon – contact for more information

– parastoo.faraz.ryan@gmail.com –
Parastoo Anoushahpour, Faraz Anoushahpour, Ryan Ferko